AC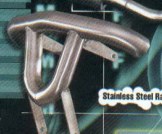 HMF Front Bumper for Raptor

AC Racing Pro Peg Nerf Bars: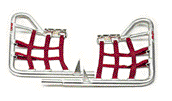 An exclusive AC design. Constructed of 6061 extruded 1-3/8" diameter aluminum tubing and heli-arc welded for strength. Solid tabs for the nets to mount ensure a long life. Pro pegs were designed specifically with the racer in mind utilizing powder coated steel mounts to attach the nerbar directly to the frame (where the stock foot pegs were located). The Pro peg is the most advanced peg/nerf bar available for the racer or serious recreational rider. Pro pegs have a brushed finish.
400EX Pro peg nerf bars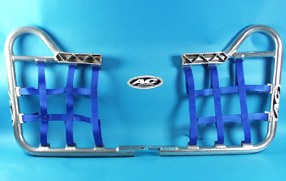 Banshee Propegs
AC Racing Front Bumper:

Constructed of 6061aluminum and heli-arc welded for strength. Features include an aluminum perforated mud screen center to reduce clogging and damage due to mud or debris. All bumpers come in a brushed finish and use the stock mounting hardware.
AC RACING CHASSIS PROTECTION
Aluminum Front Bumper $63.00
Available for TRX250X - 300EX - 400EX - TRX250R BANSHEE - BLASTER - WARRIOR - Raptor - LT80 - 250R - 500R - MOJAVE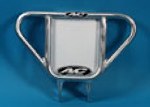 Stadium Bumpers With number Plate $ 72.00
Honda 250R - 400EX - Banshee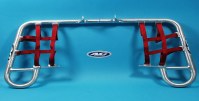 Standard Nerf Bars $130.00
Honda 250X - 300EX - 400EX - TRX250R - Banshee - Blaster - Warrior - Raptor - LT80 - LT250R - LT500R - Bombardier DS650
Aluminum Pro-Peg Nerfbars $160.00 400EX $200.00
Available for TRX250R - BANSHEE - LT250R - 500R
Aluminum Grab Bars $33.00
Honda 250X - 300EX - 400EX - TRX250R - Banshee - Blaster - Warrior - Raptor - Bombardier DS650
Engine Skids .125 thick $85.00 .160 thick $94.95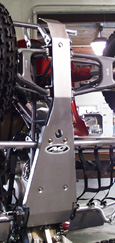 Honda 250X - 300EX - 400EX - TRX250R/Lonestar Frame - Laegar Frame - Banshee - Blaster - Raptor - Warrior - DS650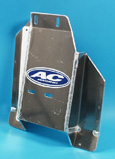 Swingarm skid Plates $65.00
Heavy Duty $80.00
Honda 250X - 300EX - 400EX - TRX250R - Banshee - Blaster - Raptor - Warrior - DS650
Call for Wide Grab Bars - Cooler Racks - Sub Frames - Lift Stands - Jet Ski Handle Poles
C&D Racing
4855 S 66th Circle
Omaha NE 68117