TRX400EX
two piece complete exhaust system. Our exclusive stepped headers are now welded on to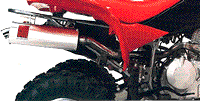 our tapered mid-section for a sleek look and a tight fit. This new design will ensure optimum performance without air leaks and vibration. The Big Gun head pipe design equipped with our oval motocross type silencer tail section will add a 7-8 HP throughout the entire power range.
CHECK OUT WHAT THE MAGAZINES HAVE TO SAY:
4 Wheel ATV Action:
- " So much bottom that I had to short shift it"
- " The pipe never got in the way. It's snug with the cylinder"
- " Much quieter than either the FMF or White Bros units, and we like that a lot!"
This system with our competition core and fresh silencer packing will give you a decibel level of 98db much less than the competition! You will notice an increase in traction control and bottom to mid-range acceleration. This unique Big Gun design will give you the most power with least wasted wheelspin!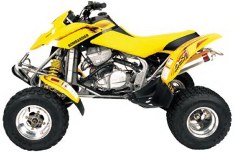 BOMBARDIER DS650
This stepped head pipe system will greatly enhance the overall performance of the DS650 not only in torque but also in peak HP. The system has a really hard pull from bottom to mid that explodes out of turns and up hills. It also revs out far on the top. The system puts out a peak HP of 6HP on top. The complete exhaust system weighs in at just over 6 pounds from head to tail and compare this to the stock pipe at over 20 pounds
RAPTOR 660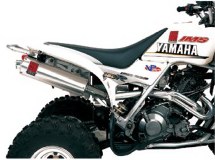 Bolt on up to 10hp while knocking off 6lbs. The Big Gun Race Series sets the standard for the Raptor while the Quiet Series offers amazing performance gains at a reasonable 94 db sound level. Used by the top pro's
BIG GUN ACCESSORY SPARK ARRESTOR/SILENCER CORE KIT
By simply removing the end cap, sliding out the competition silencer core, you can slide in a Big Gun spark arrestor silencer core kit. Making it completely legal for any U.S. Forestry trail. And unlike disk systems which choke down performance in order to meet these legal limits, the Big Gun Spark Arrestor Silencer provides maximum performance with minimum restrictions, and all changes are internal so you don't have to alter the competition look of the system.